Web Hosting

DATA CENTER


99.9% availability
Redundant server for maximum reliability
Redundant Cisco (ASR 1000 Series) and Juniper Routers (MX204 Series)
Redundante Cisco and HPE Datacenter L3-Switches
Latest SSD hard drives for optimal speed of your homepage and emails
Own independent Internet infrastructure, the autonomous system AS25575
alldomains.hosting is a member of RIPE, Network Coordination Center
Redundant connections to the high-quality international fibre glass connections of interoute and LambdaNet.
Direct connection to the Vienna Internet Exchange (VIX), Austria's most important Internet node
Electronic network and server monitoring the whole day long
Short response time to technical problems
Original pictures of our hosting hardware:
Highest security of hosting server is made possible by:
UPS (uninterruptable power supply)
Overvoltage protection
Best temperature climate control for optimum operation of all Web Hosting Server
Air dehumidifier
Automatic fire alarm system with Inergen gas fire extinguishing system
High security entrance lock
Access control by professional armed security personnel
4 DNS server provide the maximum reliability of your domain
Four DNS server on two different locations in Austria and Germany secure the availability of your domain:
ns1.alldomains.hosting
ns2.alldomains.hosting
ns3.alldomains.hosting
ns4.alldomains.hosting
The DNS server runs in an automatic failover server cluster. This guarantees the high availability of your domains. Every customer is able to edit the DNS entries of the corresponding domain free in the Customer Center.
Hardware for webhosting, databases and e-mail server hosting
For our hosting server we use reliable brand hardware from manufacturer Dell.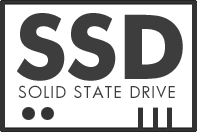 Dual processor systems, 2x Intel® Xeon® E5-2683v3 2.0GHz (14Core+HT+Turbo)
per server 7-10 Samsung Data Center "hot-swap" high performance SSDs (1.92TB or 3.84TB capacity) of the SM863 and PM863 series for active servers, as well as 14-17 "hot-swap" SAS high-performance hard disks 2.5 " (10kU / min) with 1.2TB to 1.8TB for high-performance fallback operation
per hardware server 256 GB to 768 GB DDR4 RAM (ECC / registered)
Each server has two power supplies and 2 * 2 10-Gigabit Etheret network cards.
Automated mirroring of all customer websites and email servers on second devices in fail-over mode to guarantee maximum reliability.
Spare parts for all server modules always in stock.
Used software on our servers:






Daily backups:
We create daily backups of all your files, databases, e-mails. Backups are performed daily and are saved for at least 7 days. If you need a backup, simply contact our support and we will inform you about the available backups and costs of restoring for the requested data.
Note: In the alldomains.hosting Control Panel you can also use the Backup module to create a backup of your data. You can choose a compression format (.zip/.7z) to ensure a quick download of your data.