High Security

Data Center
99.9% availability is achieved by the following measures:
Redundant HPE server for maximum reliability
Latest SSDs for perfect speed of your homepage and emails
Redundant HPE FlexFabric 10G/40G network infrastructure
Multi 10G uplinks for high availability and short response times
Redundant connection to the international Tier3 fiber optic networks
alldomains.hosting is a member of RIPE, Network Coordination Center
Electronic network and server monitoring 24/7
Short response time in case of technical problems
Hardware for webhosting, databases and e-mail server hosting
For our hosting servers we use reliable hardware from the premium manufacturer Hewlett Packard Enterprise (HPE).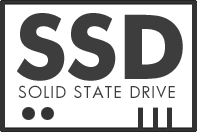 HPE DL385gen10 dual-processor-systems, 2x AMD® Epyc 7451 CPUs with 48 cores 2.3GHz (48Core+SMT+Turbo) with the following equipment:

Micron 5200 ECO datacenter Hot-Swap SSDs á 3,84TB in RAID5 compound
2 Intel D3-S4510 M.2 SSDs in RAID1-compound for the host operating system

per hardware server 512 reg-ECC DDR4 RAM
Each server is equipped with two power supplies and redundant Intel X550-T2 network cards. The connection is fail-safe with 40-60 GBit / s transmission bandwidth.
Automated mirroring of all customer websites and email servers on second devices in fail-over mode to guarantee maximum availability.
Spare parts for all relevant server modules in stock.
Original photos of our hosting hardware in germany:
Highest security for the hosting servers is made possible by::
UPS (uninterruptable power supply)
Overvoltage protection
Best temperature climate control for optimum operation of all Web Hosting Server
Air dehumidifier
Automatic fire alarm system with Inergen gas fire extinguishing system
High security entrance lock
Building security by fencing, video surveillance and security roller door
Access control by professional security staff
4 DNS server provide the maximum reliability of your domain
Four DNS servers on two different locations in Austria and Germany secure the availability of your domain:
ns1.alldomains.hosting
ns2.alldomains.hosting
ns3.alldomains.hosting
ns4.alldomains.hosting
The DNS server runs in an automatic failover server cluster. This guarantees the high availability of your domains. Every customer is able to edit the DNS entries of the corresponding domain in the Customer Center.
Used software on our servers:






Daily backups:
We create daily backups of all your files, databases, e-mails. Backups are performed daily and are saved for at least 7 days. If you need a backup, simply contact our support and we will inform you about the available backups and costs of restoring for the requested data.
Note: In the alldomains.hosting Control Panel you can also use the Backup module to create a backup of your data. You can choose a compression format (.zip/.7z) to ensure a quick download of your data.